Dear friend of YFU 
Thank you for your continued support to YFU Switzerland! It is our pleasure to invite you to the National Conference 2023 which will take place in
Salle Communale La Grange in Villars-sur-Glâne / Fribourg
at 10:30 AM on January 28th, 2023.
We will be looking back on a year of transition, with good results, 107 students abroad and 28 students in Switzerland, a great 60th anniversary and a growing financial stability. Yet at the same time we were facing a few challenges in different regions as to the way we are operating.
Following the National Conference, we will be introducing members to the YFUTURE project, an invitation and an opportunity for YFU Switzerland to consciously pave the way ahead, starting with a common vision to be outlined by all involved, strong values to be revisited and adjusted, an architecture and ways of communicating and functioning to be re-aligned with today's realities. YFUTURE should be characterized by a pragmatic approach and step-by-step implementation.
The attached program gives you the rough rundown of key elements which will take place on January 28th, 2023. As always, more detailed elements will be added in the coming weeks, so you have all the information you need.
Please sign up below until January 6th, 2023 at latest!
We are looking forward to seeing you in Villars-sur-Glâne and in the meantime wish you a happy Festive Season!
Marc Weiss
Chair of the Board
YFU Switzerland
John B Borruat
National Director
YFU Switzerland
---
Invitation to the National Conference 2023
Fiscal Year
01 Oct. 2021 — 30 Sept. 2022
Please take a train ticket to Fribourg and then catch the bus B5, B11 or take the train S21 to Villars-sur-Gláne. Trains from Geneva 08:42 / Lausanne 09:20 / Zurich 08:32 / Basel 08:13 / Bern 09:34.
If you have any questions, please contact David Gauss on 076 422 70 69.
Note: The Conference is taking place "in person" and is not meant as a broadcasted event unlike the past two years. In case future sanitary regulations do not allow a physical meeting, the conference would be changed to take place "online only". Participants would then be provided with a direct link to connect to the conference at latest 48 hours before start. Please note this is only in case the conditions cannot be met to hold the conference "in person" in a way that is judged "feasible and advisable" by the Board.
Schedule
Membership Meeting resumes
Dinner on site prepared by Region Fribourg
Agenda 
Minutes of the National Conference 2022*
Board's and National Director's Annual Report
Marc Weiss, Chair
John B Borruat, ND
Financial Statement, Auditor's Report Fiscal Year 2021/22*
Julie Tomka, Chair Finance Committee
Fund regulations update (not voted on)
Discharge of Board Members
Board Membership Changes*
David Gauss, AFSC
Finance Committee
Motions (if any presented)
Miscellaneous
(anything can be brought up but not voted on)
* Additional information for all agenda items marked with an asterisk
Any additional information about the Conference as well as the following documents will be uploaded to below as of January 6th, 2023
Item 2: Minutes of the National Conference 2022
Item 4: Financial Statement, Auditor's Report Fiscal Year 2021/22
Item 6: Documents of the candidates for Board Membership
Please note: No printed versions of these documents will be available at the National Conference!
Motions
To be considered, any motions or additional nominations for Board elections (through written recommendation by ten members of YFU Switzerland) must be submitted to the Board (board@yfu.ch) no later than December 31st, 2022 (4 weeks prior to the National Conference).
YFU Membership
Returnees 2021-2022 as well as active volunteers and staff are automatically members of YFU.
Switzerland. Anyone else becomes a member by paying a membership fee, which, following a decision by the National Conference 2020, amounts to CHF 80.- per year.
In order to limit administrative costs, there will be no special post mailing reminding members to pay their fees. However, anyone willing to become/stay a member is invited to send their membership fees to YFU Switzerland, Alpenstr. 24, 3006 Bern, IBAN CH42 3000 5227 9620 8779 0. You can also scan the QR -Code down below with your banking app in order to pay your membership fee.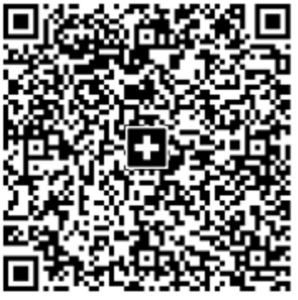 In case you wish to donate, use IBAN CH73 0900 0000 3002 6359 3 or check our website under https://soutien.yfu.ch/dons or https://foerderer.yfu.ch/spenden. There it's is possible to do via Twint.
Please note that only members have a right to vote during YFU's general meeting and that, should any membership be controversial, the Board has the final say on who can become a member of YFU Switzerland.
Travel refund
The ½-price ticket for public transport to Villars-sur-Glâne will be reimbursed to members on a voluntary basis. Amounts not collected will be considered as a donation to YFU Switzerland.
COVID restrictions
Please note that the COVID restrictions in force on January 28th, 2023 will be strictly enforced, including, if advised by the authorities at that time, wearing masks and/or sanitary passes with ID checks.
Documents
Financial Annual Report – 2021/2022
Minutes of the membership meeting — 2021/2022
Agenda to the National Conference 2023
Guidelines to YFU Switzerland's funds
Meili Oliver: Motivational letter
Garzoli Sabina: Motivational letter
Please note: No printed versions of these documents will be available at the National Conference! 
---
Sign up
Login to your account to speed up the signup process.